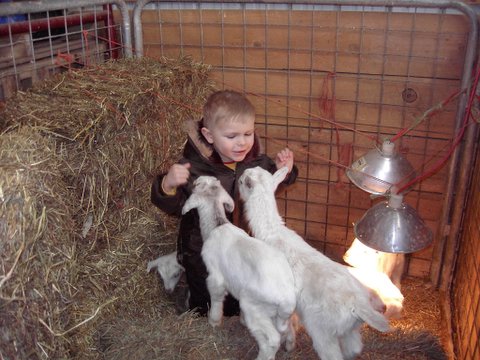 Cooper's Ark Farm is a 15+ acre New York State Agritourism destination nestled in the Heart of The Schoharie Valley, bordering the Schoharie Creek. We offer an educational family fun farm tour starting on Memorial Day. We're open weekends from Memorial Day to July 4th weekend, when we then open 7 days per week until Labor Day.Then we return for weekends only till about the middle of October. Pack a lunch, bring a camera, prepare to have a good time!
We'll be bringing the egg washing machine from the house to one of the barns on weekends this year. You can "pick-your-own" eggs, wash and grade them, and bring em home the same day they were laid. We've got several mini's that need to be walked around the property, and many others that need to be fed. We don't use a gumball machine for grain - you'll have to shell your own corn and grind it yourself, and there's lots more.
In 2004, we were awarded a New York State Agritourism Grant through Senator Hoffman's office. The bulk of the money went for site work: new road, parking, etc. The remainder was used for the construction of one of the few Handicapped Accessible haywagons in the world. We can provide, during a farm tour, a haywagon ride for up to 6 wheelchairs visitors at the same time.
We also sell free-range pastured chickens, ducks and guinea hens.